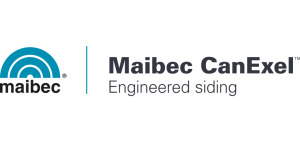 CanExelTM exterior siding has been manufactured in East River, Nova Scotia for over 40 years. CanExel has a long history of distributing this premium siding to the Canadian marketplace. CanExel captures the true aesthetic appeal of real cedar siding with uncompromising attention to detail, colour and durability.
CanWel congratulates Maibec in their acquisition and looks forward to growing this proven brand.


Products

Ridgewood D-5™
Maibec CanExel Ridgewood D-5™ has the genuine look of Dutch lap siding. The multi-lap planks provide the appearance of narrow 5-inch laps but come in standard 12-foot planks that are easy to install.




Ced'R-Vue™
Maibec CanExel Ced'R-Vue™ delivers the stunning beauty and durability of cedar siding without many of the drawbacks. Unlike cedar lap siding, Ced'R-Vue stands up to the Canadian sun and doesn't stain when exposed to rain, snow and moisture.


"CanExel prefinished siding has been standing out for over 40 years for its lasting beauty. Whether it imitates cedar or Dutch lap siding or it comes in planks, it always has the gorgeous appearance of authentic wood grain and it is very durable."

UltraPlank™
This versatile plank siding can be installed vertically or diagonally to match the personality and architecture of your home. Diagonal siding provides a traditional look while the vertical siding delivers a more contemporary feel.