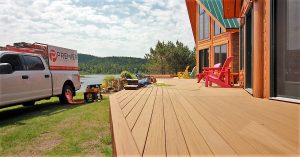 This week we have the pleasure of featuring Andrew Sheppard, Senior Journeyman Carpenter. "I grew up," he writes, "chasing my father and grandfather around wherever they went." "It was always an exciting day when I got to tag along on a job with them."
By age 13, he was working his summers away on construction jobs with his father. Once finished high school, he went on to trade school and completed the carpentry course and official apprenticeship qualification to achieve journeyperson status. Here's his story.
CanWel: Tell us a bit about yourself?
Andrew Sheppard: I've been with Premier Siding & Window Sales since I finished trade school 11 years ago. I guess you could say I was destined to become a carpenter, as I'm the fifth generation carpenter in my family.
Premier Siding & Window Sales in Corner Brook, Newfoundland, specializes in exterior projects –new and renovations, including decks, roofing, siding, door and window installs on the west coast of Newfoundland. We have a team of construction workers as well as subcontractors.
What services do you offer?
Our service usually starts with a trip to our outstanding showroom where you can view samples of all of the products we offer to help get a visualization of what the customer would like for their home. Lots of fun brainstorming happens at this stage with our sales staff, and sometimes we will work with independent designers to achieve our customer's goals while working with their budgets. Once a design is in place, we send our measure technician out and get the ball rolling with ordering all the products for the job. Once the products are received, that's where I come in – making the exterior renovation or new project happen, whether it be a low-maintenance MoistureShield® Composite Decking that'll last years, Maibec CanExel™ Engineered Siding with a Fusion Stone Veneer accent wall for a sharp upgrade to a home, or Versatex PVC Trimboard to really make the exterior of a home pop!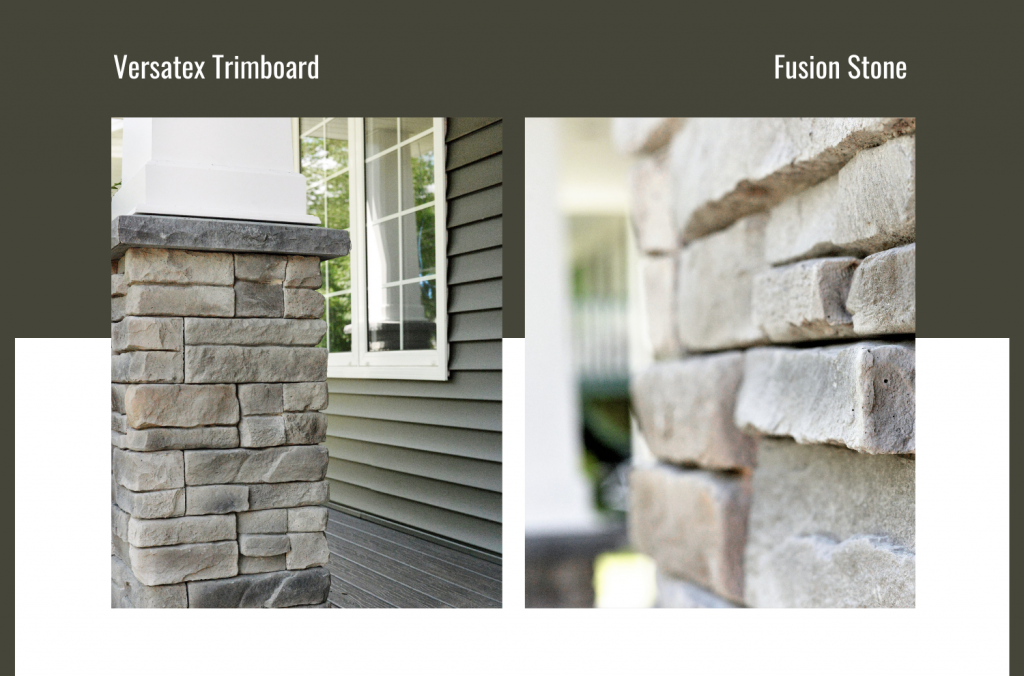 Can you tell us about one of your favourite projects and why?
Some of my favourite projects to do are decks, whether it's a small front step or a large multi-level deck –especially if I get to install MoistureShield decking. Intricate designs or straight, clean lines, MoistureShield composite decking looks great and keeps your outdoor living space maintenance free.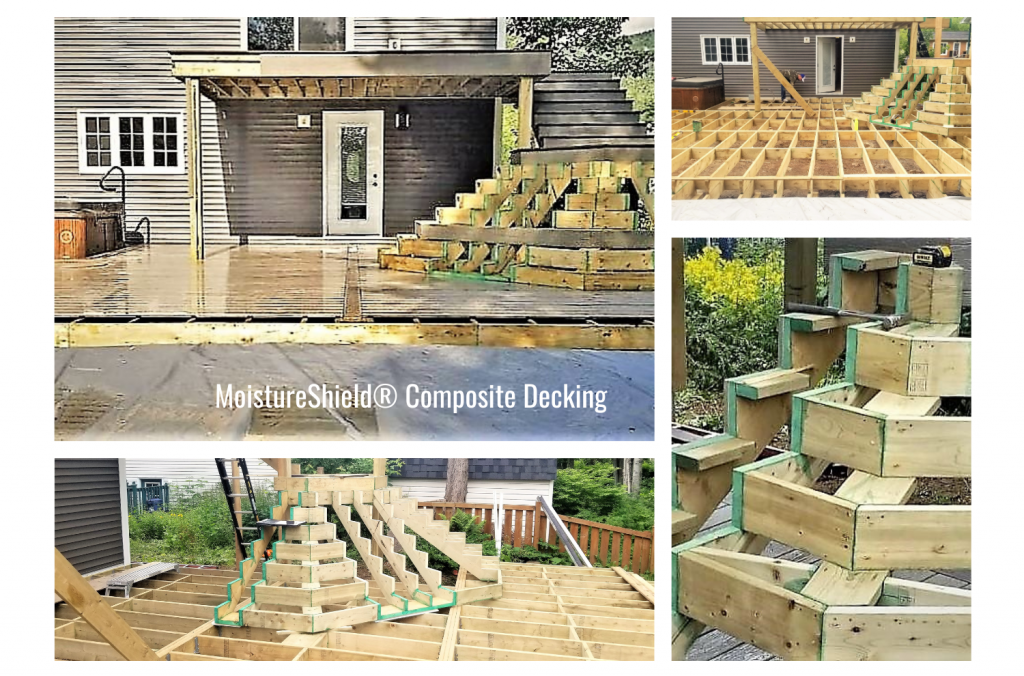 I recently completed a huge multi-level deck using Century Aluminum Railings Scenic Series railing in Steady Brook, Newfoundland which required a lot of planning and design on my part – something I love to do. The old deck was removed, the new deck framed up and finished with MoistureShield. The deck has three levels with an integrated pool, hot tub and an intricate set of steps to each level – all surrounded by Century Railings glass panels.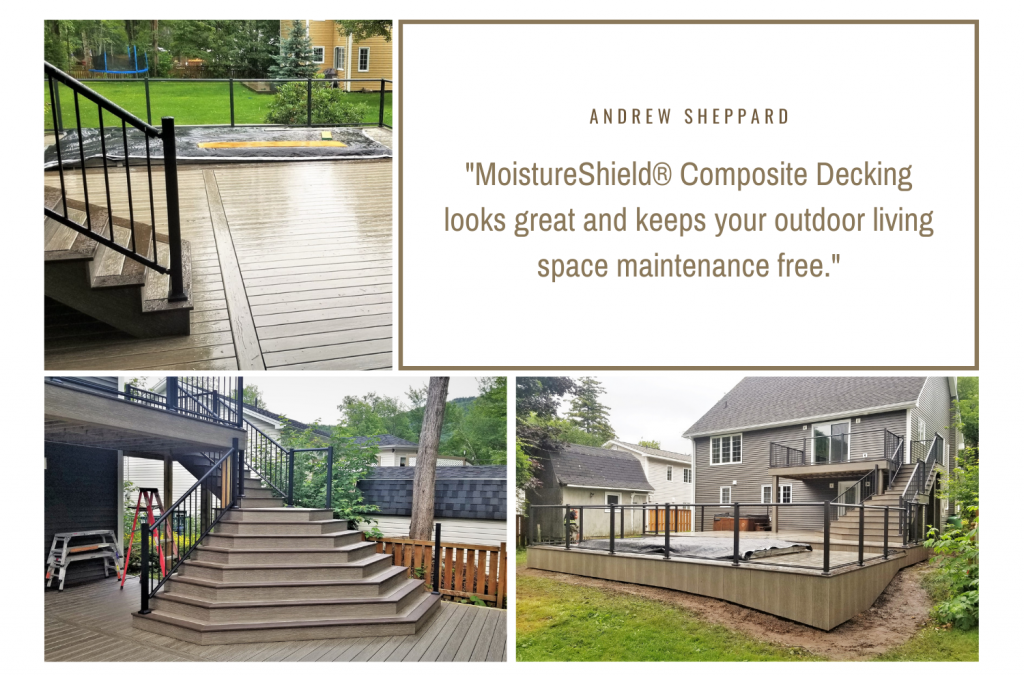 Why do you work with . . .?
At Premier Siding & Window Sales we work with a variety of products, so our customers have a good selection for their style and budgets, including Versatex Building Products, Fusion Stone, MoistureShield, Century Railings and Maibec CanExel siding. All of these products have outstanding durability. So when I finish a project, I know these products will withstand wear and tear extremely well and be there for years to come.
How do you approach each project?
For me, every time I start a new job, the sales staff has already worked with the customer to come up with a basic design. Then I work with the sales staff, and sometimes the customer, to discuss the best way to complete the project from the design aspect to the functionality aspect. Once a plan is in place, we then proceed to start the project, always keeping in mind that small changes happen and are necessary along the way.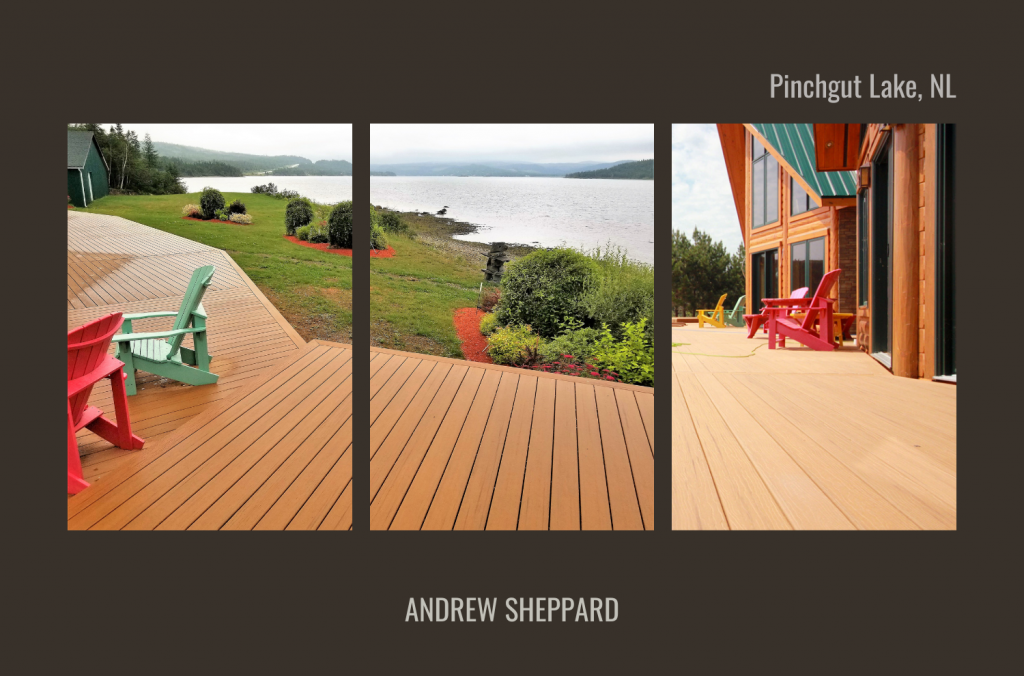 What trends do see in the future for your industry?
Trends I see evolving in the construction industry, specifically exterior home renovations and upgrades, are clean lines and pops of colour. Quite a lot of customers are leaning towards clean, flat trims that can be painted a colour of their choice – this is where Versatex trim comes into play, especially on a home with Maibec CanExel siding. A muted siding colour, like River Rock with a bright front door, is the type of design that I've seen a lot of in recent jobs.
What's your favourite accessory product?
My favourite accessory product would be Fusion Stone, which, in my opinion, is far superior to other cultured stone products. Fusion Stone is a durable choice for both residential and commercial projects. It's easy to work with, especially in tight spots or for cutting around window/door openings. Overall, this product is a great choice for accent walls, posts, and columns, outdoor BBQ surrounds and fireplaces, etc. You could even use it in an interior project! It's such a versatile product.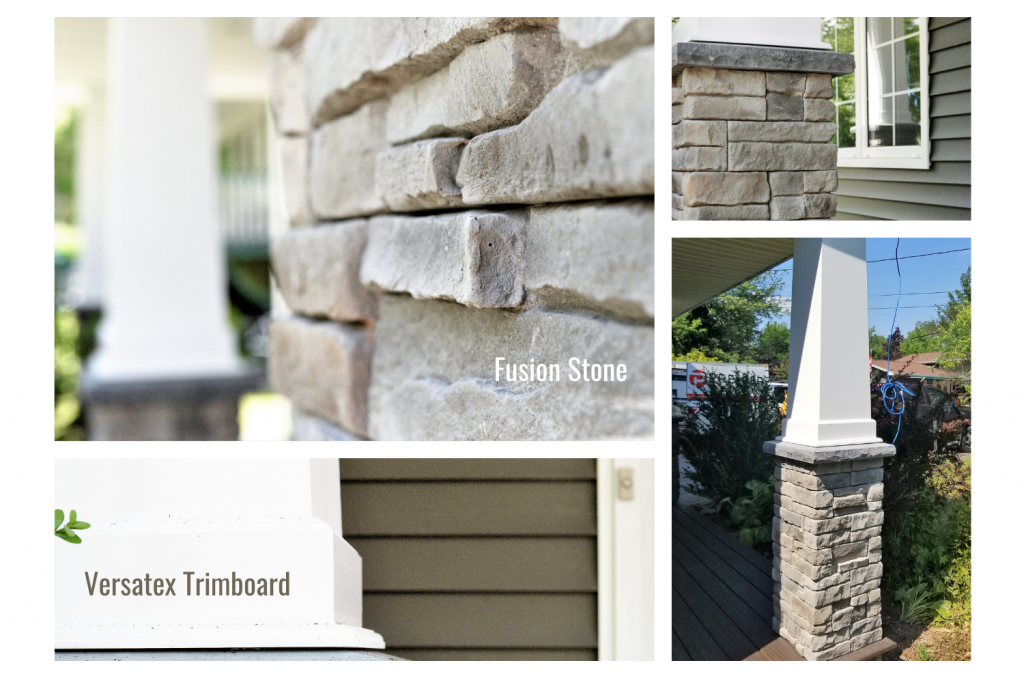 Do you have a product you use that you just can't build without?
A product I can't build without would be the Versatex Trimboards. This product is extremely versatile, whether used for window trims, wrapping a post or column, or for fascia. It's really easy to work with, and the lengths and widths make it a cleaner finished project in the end with fewer joints, and the cortex screws provide invisible fasteners. I use this product in so many capacities on my jobs!
Is there a product you really want to try?
A product I haven't yet tried, but that I'm looking forward to trying is the MoistureShield composite deck railing.
How do you find out about new products?
I find out about new products through trade shows, online on Instagram and Facebook, and by word of mouth through contractors and building supplies retailers. I recently attended the International Builders' Show in Las Vegas where I learned about all sorts of innovative products for the construction industry.
Contractors often receive swag from manufacturers and suppliers. What's your favourite swag?
Favourite swag is hands down a hoodie or toque. I work all year round completing all exterior work, so these come in handy, especially for the winter months in Western Newfoundland!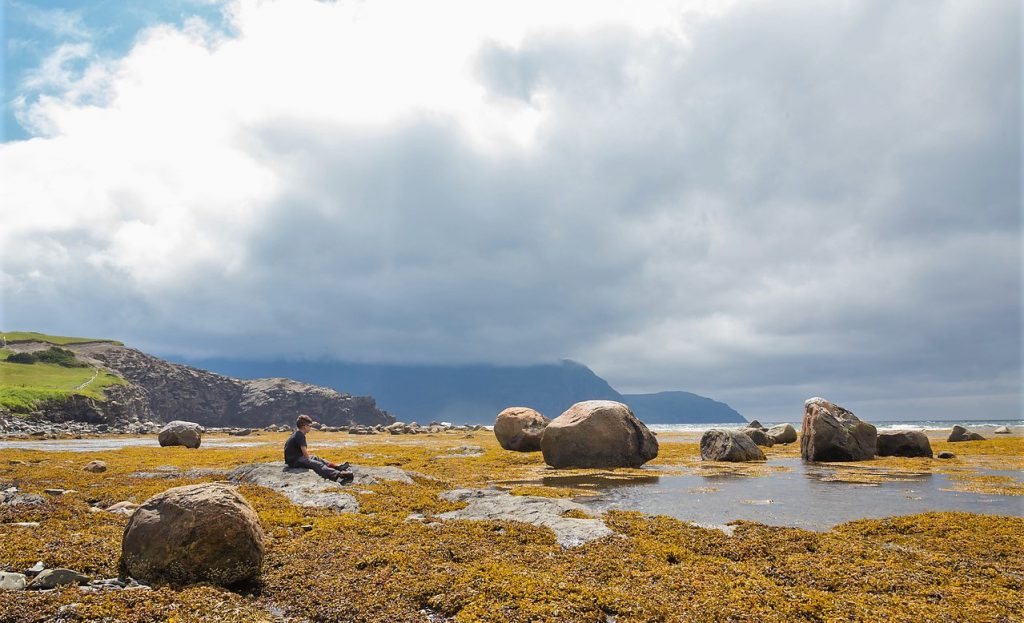 What is the best piece of advice you've ever received?
I'd say the best piece of advice I've ever received is, "Always do better than just good enough."
What social media channels do you use?
Instagram: @carpentersheppard @premiersiding
facebook: Premier Siding
***
CanWel would like to thank Andrew Sheppard for taking the time to share these projects and insights with us. In the meantime, stayed tuned for our next Contractor's Corner. Follow us on social to find out when our next feature will be posted.
If you're a contractor and want to be featured in an upcoming Contractor's Corner blog post, message us and we'll send you the details. If you'd like to share your photos of your latest project with us on Instagram, tag us @canwelbuildingmaterials with #canwelpros