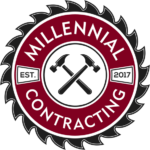 This week we have the pleasure of featuring Matthew Daigle, owner of Millennial Contracting. Matt founded the company in 2017. He graduated from George Brown College in 2016 with an advanced diploma in the Building Renovation Technology program. "I also hold a Revit Architecture Professional Certificate for CAD design and programming." This is where his story begins.
CanWel: What is the history of your company?
Matthew Daigle: I am 27 years old, with over 10 years of experience in residential construction. My company focuses on a holistic approach to residential renovations and new construction by providing a turnkey service of interior design, architectural design, permit drawings, project management, and the construction and building of the project.
We service Cornwall and the surrounding areas, as well as the Greater Ottawa Area. We specialize in residential renovations, additions, and decks.
What services do you offer?
We offer in-house design services, and we work with local independent designers, depending on the size and scope of the project.
Can you tell us about one of your favourite projects and why?
We completed this covered deck project last summer. It has many unique features that make this one of our favourite projects to both design and build. The primary material for this deck is MicroPro Sienna Treated Wood and framing material. The overall footprint is 608 ft2, with the upper level measuring 15' x 16' and the lower level measuring 23' x 16'. The upper level is covered with a custom, low-sloped roof finished with standing seam metal roofing. The underside of the roof is finished with stained pine tongue and groove panelling and black pot lights. The custom privacy wall features a Fusion Stone Great Lakes Stone veneer system and adjustable louvre screens. The railings are all aluminum in a powder-coated brown finish.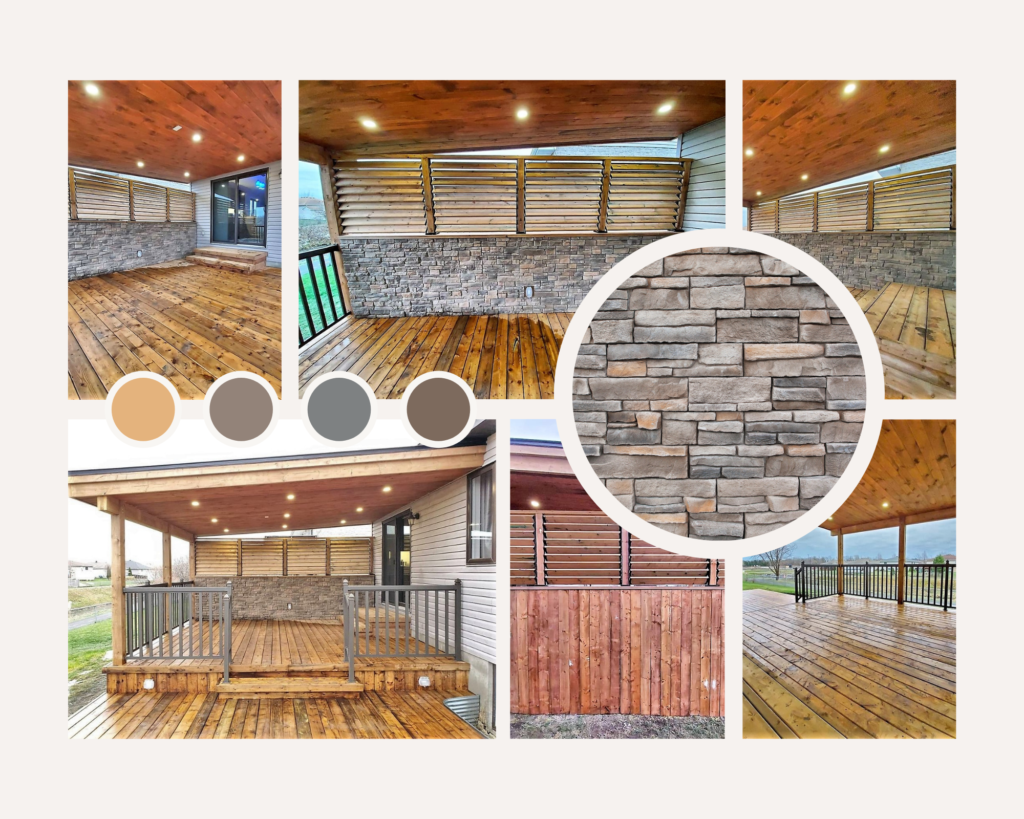 The upper level of the deck was designed specifically for the client who is a BBQ and grilling fanatic. He owns six different grills/smokers/BBQs. We designed the privacy wall to withstand the heat from the BBQs so he could line them all up along that wall. We added the roof so he could grill all year round. The lower level deck is the "sun deck," which is meant for lounging and tanning in the sun.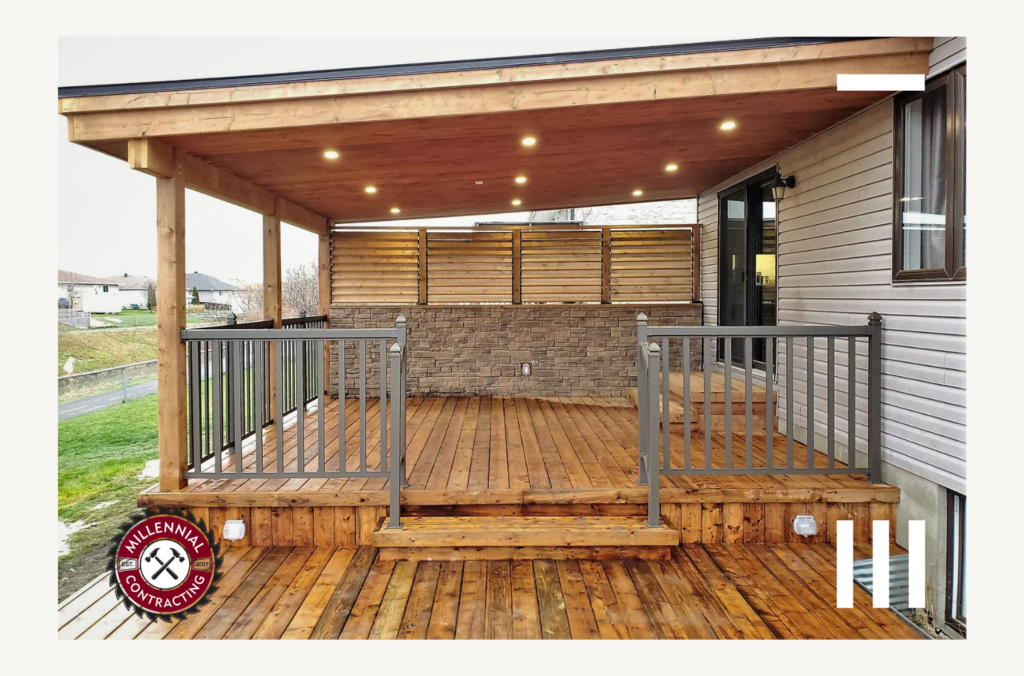 Why do you work with . . .?
The primary material for this deck is MicroPro Sienna pressure treated wood decking and framing materials. We use this material on the vast majority of our decks because it withstands the harsh conditions of the Canadian climate. In addition, it is easy to work with, affordable, and pleasing to the eye.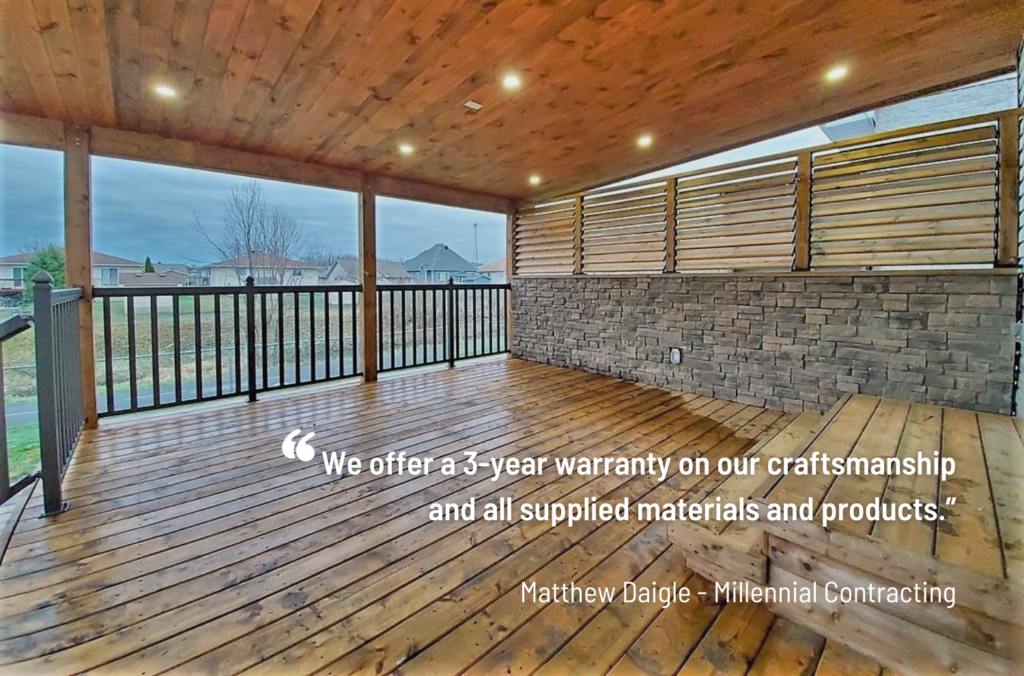 We used Fusion Stone Great Lakes in Brindle colour for the stone veneer feature. This excellent cultured stone product requires no mortar or masonry skills. We chose to use this product because of its ease of installation, quality and look. We also used plenty of FastenMaster structural screws (which we use all the time) on this deck for the structural and framing work.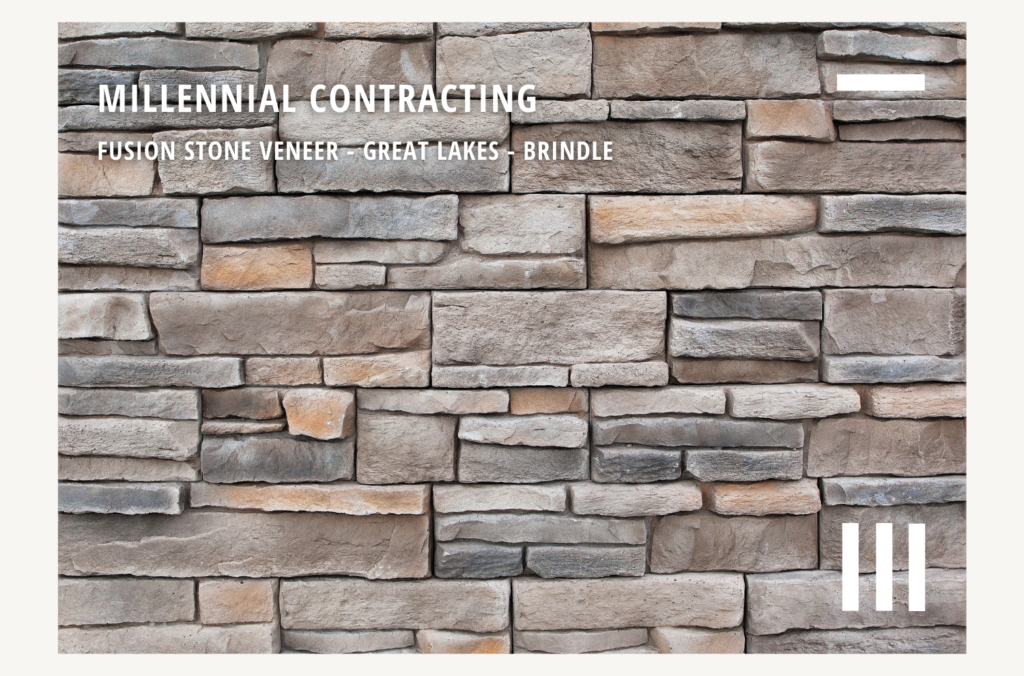 What warranty do you offer on your work or the products?
We offer a 3-year warranty on our craftsmanship and all supplied materials and products. If there are any defects on the work or the products used, we come back to fix them promptly, no questions asked, within that 3-year period.
How do you approach each project?
We assist with the design, material, and product selection on the vast majority of our projects. Many times we source and supply all the products and materials.
What trends do you see in the future for your industry?
Most residential contractors are trending towards a design-build structure. One-stop turnkey service is very desirable for clients. The industry in general is definitely trending towards more environmentally friendly products and building methods and looking for 'healthy' products that are not harmful to clients, such as those with low VOCs, low off-gassing, and low toxicity.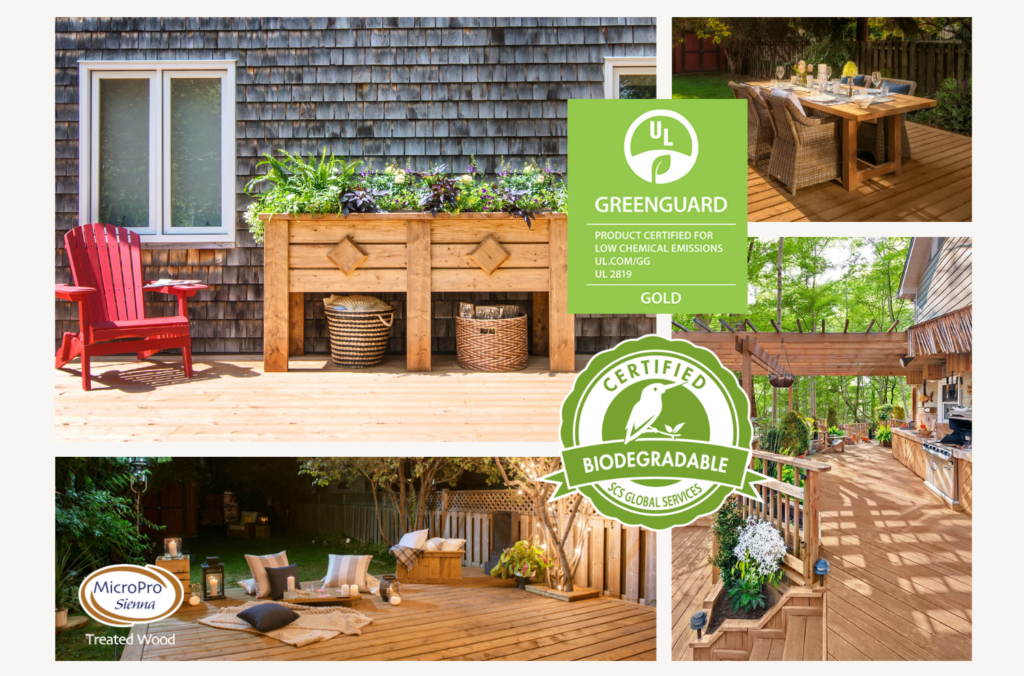 Do you have a product you use that you just can't build without?
We cannot build a deck without FastenMaster structural products and G-Tape 3040BK flashing tape. We use the tape on the tops of all the framing members, which protects them from water penetration and rot.
How do you find out about new products?
Local building suppliers, extensive online research, some word of mouth.
Contractors often receive swag from manufacturers and suppliers. What's your favourite swag?
Clothing, stickers, sample products.
What's the best advice you've ever received?
You miss 100% of the shots you don't take. You will not succeed or reach your goals if you don't try. And trying doesn't mean "half-assing" it. Trying is giving 110% until you see results. Nothing worthwhile in life is easy. If it was easy, everyone would succeed.
Who is your main building materials supplier?
Emard Bros. Lumber in Cornwall and North Dundas Building Supplies in Winchester.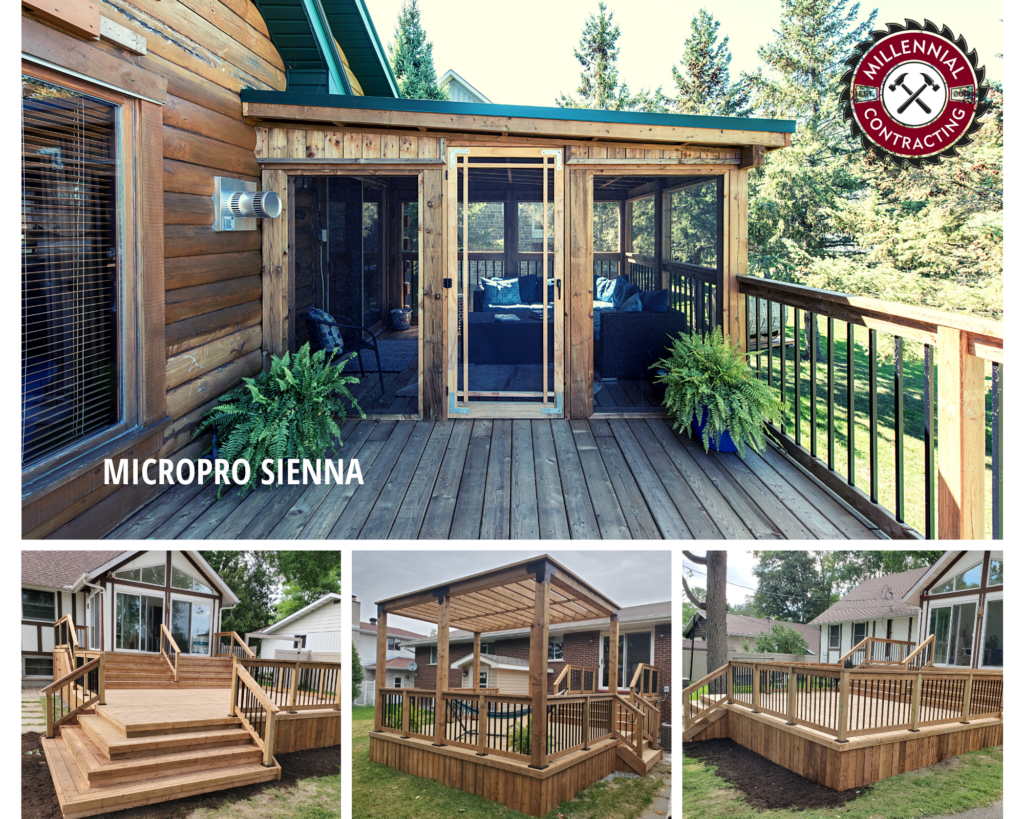 What social media channels do you use?
Instagram: @millennialcontracting
facebook: MillennialContracting
LinkedIn: MillennialContracting
***
CanWel would like to thank Matthew Daigle for taking the time to share these projects and insights with us. In the meantime, stayed tuned for our next Contractor's Corner. Follow us on social to find out when our next feature will be posted.
If you're a contractor and want to be featured in an upcoming Contractor's Corner blog post, message us and we'll send you the details. If you'd like to share your photos of your latest project with us on Instagram, tag us @canwelbuildingmaterials with #canwelpros