Expression – Two toned James Hardie Fiber Cement Siding
We use the highest quality raw materials and proprietary additives for enhanced strength and moisture protection.
Learn more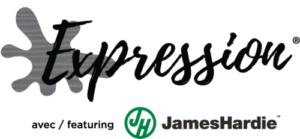 Company :
CanWel Building Materials Division
Availability
ON | QC
Description
CanWel's Expression Series has been developed to offer a two-tone colour option to complete our line of fiber cement siding. Finished on James Hardie products, the Expression Series offers a beautiful upgrade, giving your home long-lasting curb appeal.
Best described as a "two-tone" finish, there is a variance from board to board giving the appearance of real wood siding. This innovative colour technique differentiates the Expression Series from other products in the marketplace
Swatches
Sesame

Coffee Bean

Silver Maple

Ebony

Ashes

Cedar

NEW! Antique Grey

NEW! Antique Pearl
Resources

Enjoy the warm, natural character of wood with unprecedented peace of mind.
Learn more